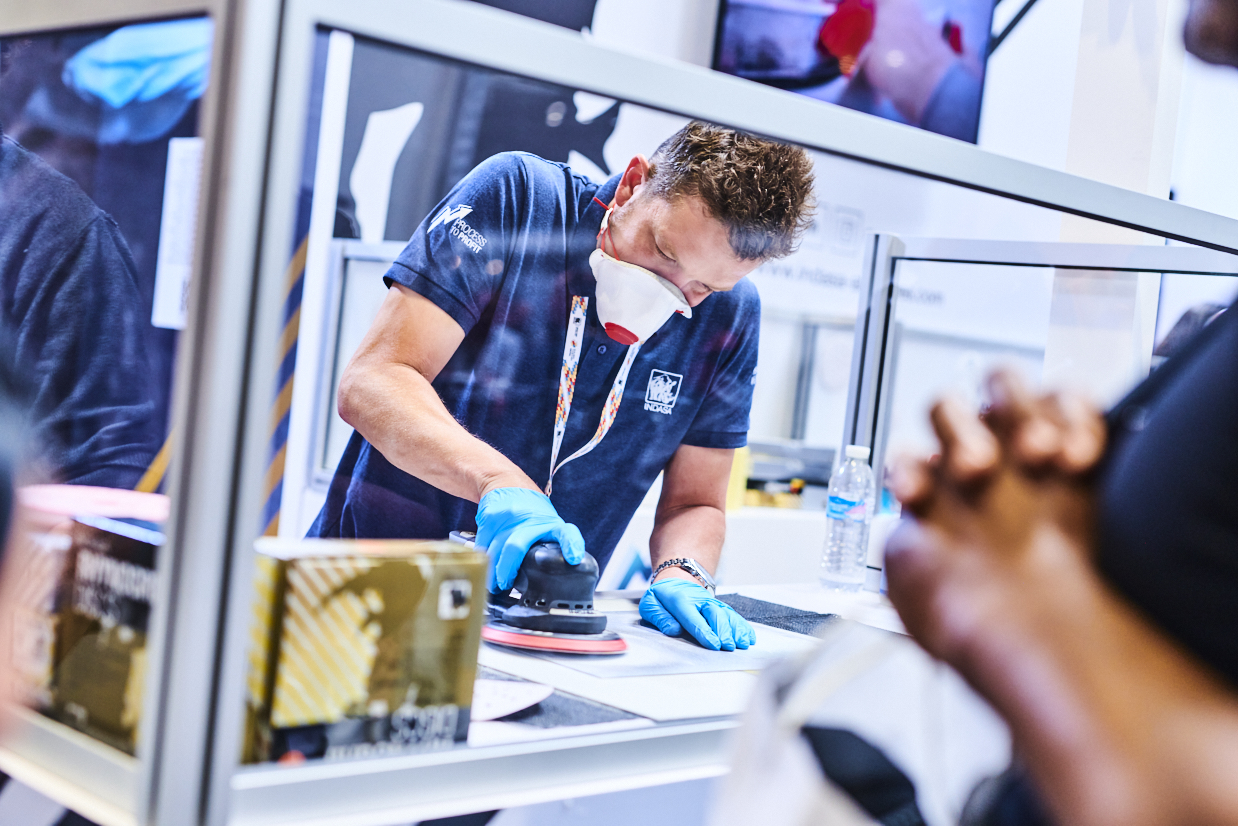 Taking place from 6 to 8 June 2023 at the NEC, Automechanika Birmingham 2023 will be the first UK event since 2019 and is already set to be a sell-out show packed with exciting exhibitors including Anest Iwata, SATA, PPG, TEROSON, INDASA, Abrasives, Wayne B, FLEX, ProXL, MASTERFLO UK, Walcom UK, Sagola UK, Mipa Paints Limited, Opus IVS - UK/Europe, LKQ Bodyshop Division (UK & ROI), CAPELEC, Bodyshop Magazine (Plenham Ltd), NBRA, Christopher Weeks and Michel A. Malik.
Plus attendees will get a first-look at some of the latest product launches for the bodyshop repair industry, including a new spray gun from Walcom, PartsXchange; an app for buying and selling parts; new ProXL curing products; and the latest curing system and automatic mobile catalytic IR dryer from MasterFlo.
Show features include Workshop, EV and Bodyshop Training Hubs providing technical training and demonstrations, plus leading conferences for Aftermarket, Supply Chain and Talent and Skills offering the latest news and advice from the sector.
Plus, NEW for 2023 a Detailing Hub, Collision Repair Live and Paint & Spray Live providing live demonstrations and Modern Garage and EV Parc looking at all things electric vehicles and garages of the future.
Automechanika Birmingham's Bodyshop Training Hub is in association with Bodyshop magazine and presented by renowned industry figureheads and experts. This hub will provide collision repair and bodyshop professionals with the latest updates, advice and technical innovations in the sector. Themes will include ADAS, body repair, EV repair, paint, refinishing and BS10125 standards.
This year's show will also include the Detailing Hub Live. As the education partner and co-curator of the programme, The UK Detailing Academy invites the community to join them at this much-anticipated new feature for practical demos and to discuss the sector's challenges and opportunities.
Also new for 2023 is Collision Repair Live, offering demonstrations from leading suppliers in the UK repair sector across paint and spray guns, polishing, plastic repair, dent pulling, welding and more. Plus, Paint & Spray Live, courtesy of Masterflo UK, giving show visitors a chance to witness paint and spray demonstrations in action in the show's fully ventilated and operational spray booth.
Automechanika Birmingham has revealed that it will also host the National Paint Championships, with the winner being announced in a live ceremony at the show on 6th June 2023.
After receiving avid interest from professionals in the sector with a total of 20 registrations, the judges have shortlisted eight finalists, including: Jack Smith from Forged from Flake; Rob Hendrick from Brit Built Customs Ltd; Julian Woodstock from Colchester College; Becca Denton from Bex Airbrushing; Rhisiart Griffith from RWG Built; Ian Boultwood from Bespoke Autostyling, Ashleigh Shaw from Autobodyworx and Hannah Pusey from Sprayaway Group Limited working with Airartz.
With the Championships being completely free to enter, those shortlisted are now tasked with designing the most impressive car bonnet to showcase their classic paint technique, in a bid to be crowned National Paint Champion.
The designs, which have a theme of 'Mobility Royale,' will be on display during the course of the show from 6th – 8th June, and a professional jury will decide on their favourite design live on stage at the show.
On the panel will be a total of six established judges from within the bodyshop and collision repair industry, including: Rachel Murray, finisher and owner of Paint by Rach; Michael Massey, global paint finishing platform application engineer for the 3M Automotive Aftermarket Division; Simon Wait, head of editorial at Bodyshop Magazine; Jordan Salt, managing director of R+R Coatings; Sunny Yip, car body repair technician of Auto Spray and; The_Specky_Painter, Craig Bourke.
And there's more, as the general public is invited to vote for their favourite motif, as participants go head-to-head to battle it out for the People's Choice Award.
The design must be executed to the highest standards but not exceed 50 hours in total to produce.
All finalists will automatically be included in both categories: The National Paint Champion and the People's Choice.
The National Paint Champion winner will then be invited to attend Automechanika Frankfurt, taking place in 2024.
Ticket registration for Automechanika Birmingham 2023 is open and a complimentary ticket can be claimed here.